High-vibrational Yoga & Meditation Retreats to transform your mind, body and soul.
We offer immersive yogic experiences with daily yoga classes, nature connection, restorative self care and delicious nourishing food.
Immerse yourself in a nourishing restorative healing process with yoga, guided meditation, conscious eating, and self-care. Our retreats inspire you to go deeper into your yoga and meditation practices supporting you to access a higher level of self-awareness and personal alignment.
Reconnect with nature. Disconnect from the hustle and bustle of your busy life and find peace in nature. While on these retreats you can explore the surrounding landscapes, walk on local tracks, swim at the local beaches and experience the local culture.
As always, there are limited places and this retreat is likely to fill up quickly. If you are interested in coming please let us know soon, to avoid disappointment.
Reach out to us today so we can reserve your spot. Email: [email protected]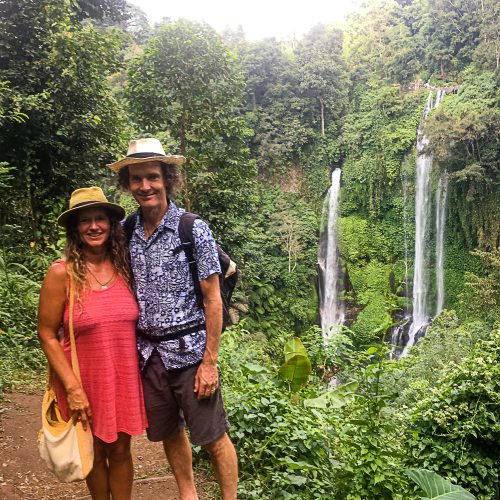 Meet Your Facilitators
Marie & Matt
Marie and Matt have facilitated retreats in Asia, North America, New Zealand, and Australia for many years.

In 2005 Marie, her husband Matt and their two children moved to Kapiti. Together with Matt, Marie established a successful yoga centre in Raumati Beach where she managed and taught a full timetable of classes and organised many popular community events.
In 2011, Marie established Kapiti Yoga and due to her commitment and appealing teaching style, Kapiti Yoga which grew to be the most successful studio on the Kapiti Coast, New Zealand.
Together they offer a wealth of experience and are teaming up to co-create a truly unforgettable experience. They are refreshingly down-to-earth in their approach and are passionate about conscious living and facilitating expansive growth. Get ready for a joyful journey of inspiration and transformation.
But don't take our word for it, here's what some of our retreat participants had to say:
""I just wanted to say thanks for all the care and thought you put into the retreat. There is so much going on behind the scenes to create what you create, let alone all the actual sessions. The yoga, the meditation sessions, listening session, sound, art therapy all amazing and we were so lucky to experience all this."
Tricia
"Thank you so much to Marie and the team you all stand out as one. The way you supported each other as well as us was outstanding. As always it is by our actions, our true values are shown. Thank you all for a very special time."
 John 
"My bed is made everyday, my buffet meals cooked for me, my room
cleaned for me, days planned for me, transport arranged for me, and even
fancy pics/vids done for me. All I need to do is unwind and chill."
Lolina