High-vibrational Yoga & Meditation Retreats to transform your mind, body and soul.
We deliver a diverse retreat experience offering a thoughtfully created program that includes a wide range of activities.
There is no doubt that we Love our Yoga, both as a tool of self discovery and to maintain health and vitality on all levels, but our retreats have become so much more than just yoga practice. Our retreats always include high vibrational excursions, full of adventure, and activities that explore the surrounding environment and local culture. 
We like to have fun, relax, and create space for heart filled connections to flourish. But we do take our retreat preparation seriously, visiting the venue first to see if it is suitable, and checking out excursions to make sure all the are up to our standard. We are always finding new locations and also revisiting old favourites with many guests returning year after year to attend our retreats.
Each retreat is intentionally themed in a progressive way. All yoga classes, meditations, guided relaxations are tied together with an overall theme that develops as the week unfolds. 
Perhaps the most satisfying experience for us as facilitators is to witness a group of participants who were complete strangers just a few hours ago now laughing together having established bonds of deep friendship and connection that may last a lifetime.
Our retreats attract people from all walks of life. All levels of yoga experience, from beginners to advanced, are catered for. You can come with your partner, a friend, or on your own. It doesn't matter if you have traveled a lot, or it is your first time away from home. It is our intention to welcome you to the best possible retreat experience.
As always, there are limited places and this retreat is likely to fill up quickly. If you are interested in coming please let us know soon, to avoid disappointment.
Reach out to us today so we can reserve your spot. Email: [email protected]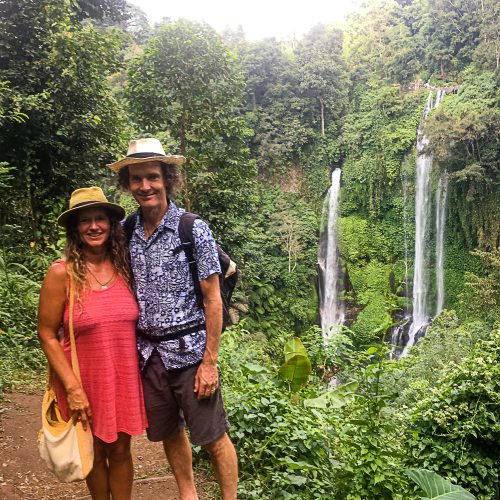 Meet Your Facilitators
Marie & Matt
Marie and Matt have facilitated retreats in Asia, North America, New Zealand, and Australia for many years.

In 2005 Marie, her husband Matt and their two children moved to Kapiti. Together with Matt, Marie established a successful yoga centre in Raumati Beach where she managed and taught a full timetable of classes and organised many popular community events.
In 2011, Marie established Kapiti Yoga and due to her commitment and appealing teaching style, Kapiti Yoga which grew to be the most successful studio on the Kapiti Coast, New Zealand.
Together they offer a wealth of experience and are teaming up to co-create a truly unforgettable experience. They are refreshingly down-to-earth in their approach and are passionate about conscious living and facilitating expansive growth. Get ready for a joyful journey of inspiration and transformation.
But don't take our word for it, here's what some of our retreat participants had to say:
""I just wanted to say thanks for all the care and thought you put into the retreat. There is so much going on behind the scenes to create what you create, let alone all the actual sessions. The yoga, the meditation sessions, listening session, sound, art therapy all amazing and we were so lucky to experience all this."
Tricia
"Thank you so much to Marie and the team you all stand out as one. The way you supported each other as well as us was outstanding. As always it is by our actions, our true values are shown. Thank you all for a very special time."
 John 
"My bed is made everyday, my buffet meals cooked for me, my room
cleaned for me, days planned for me, transport arranged for me, and even
fancy pics/vids done for me. All I need to do is unwind and chill."
Lolina