Access Yoga classes online anytime, anywhere
Join our online classes.
Practice when you want & where you want!
Weekly vinyasa, yoga conditioning, yin, easy yoga, myofascial release, meditation and relaxations posted. All classes are available anytime and are accessed via our Facebook online community page.
We have over 750 classes currently available with new classes every week. New classes are uploaded from various exotic locations around the world depending on where we are hosting a retreat.
You'll find over 80 recipes under the 30 day detox recipe guide. We also share health info and tips.
We offer a livestream every Saturday 4pm to answer any questions about yoga or anything else. You can replay this anytime. 
We offer  a one week free trail, please email [email protected]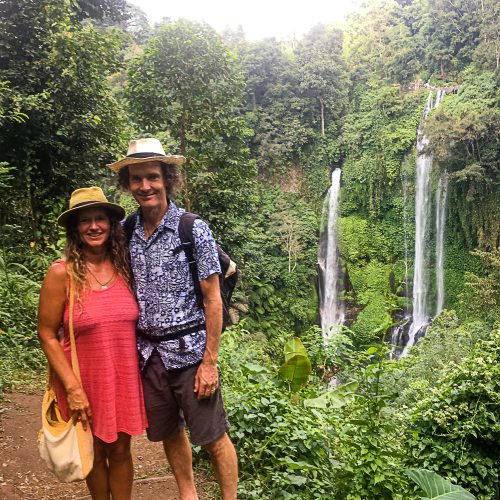 Meet Your Teachers
Marie & Matt
Marie and Matt have facilitated retreats in Asia, North America, New Zealand, and Australia for many years.
In 2005 Marie, her husband Matt and their two children moved to Kapiti. Together with Matt, Marie established a successful yoga centre in Raumati Beach where she managed and taught a full timetable of classes and organised many popular community events.
In 2011, Marie established Kapiti Yoga and due to her commitment and appealing teaching style, Kapiti Yoga which grew to be the most successful studio on the Kapiti Coast, New Zealand.
Together they offer a wealth of experience and are teaming up to co-create a truly unforgettable experience. They are refreshingly down-to-earth in their approach and are passionate about conscious living and facilitating expansive growth. Get ready for a joyful journey of inspiration and transformation.
But don't take our word for it, here's what some of our online participants had to say:
"I first met Marie and Matt on their yoga retreat in Gisborne over 2 years ago. I have been participating in their online classes ever since. Marie's wealth of physical knowledge and calming instruction makes an hour class fly by! Matt's wise and wonderful relaxation/meditation classes help keep me on track with my mental wellbeing. Their online classes are nourishing for body and mind – they are my soul family."
Lesley
""Being part of this online community is a delight. A constant variety of classes loaded each week to keep my practise interesting, but also having a library of previous classes to go back to again and again is wonderful. I can always find the perfect class to suit my mood. The beautiful backdrops of Marie's classes are an added bonus, from tropical islands to lush bush. Saturday's live chat is always interesting and quite often just what I need to hear. But it doesn't stop there, recipes, guided detox events and meditations are all part of the deal, the complete package. A wonderful yoga community group that I would be very sad to be without now."
Kelyne
"Marie & Matt's online yoga classes are aimed at all levels of capability, experience and fitness as the instruction offers advice to cope with injury, fear, and lack of mobility. Their calm delivery guides you to achieve beyond your expectation and you are left feeling relaxed, energised, motivated and better able to enjoy life. Pearls of wisdom dropped in casually through out the class bring fresh ways of being and inspiration to do more."
Donella