13-19th May 2024 (2 spots left) and
29th july - 4th august 2024
Hoi An - VIETNAM
Immerse yourself in the rich culture and history of Vietnam and feel the essence of the land. Vietnam's raw, charming, unspoilt, romantic beauty will capture your heart. Experience the flavours of local cuisine specific to the area of Hoi An. One of the many highlights is the hospitality and friendliness of the local people.
The daily program will be well-spaced. Each day you'll enjoy meditation and then an energising morning vinyasa flow. With two teachers catering for both beginners and experienced practitioners. In the afternoon a relaxing yin practice. Yin sessions include self-guided myofascial release and a blissful guided deep relaxation (yoga nidra).
A range of group activities and excursions are offered. There is also generous personal time for you to swim, sunbathe, read, walk in nature, relax with a spa treatment… However you choose to enjoy your time, it's up to you.
Nestled on the banks of the Co Co river, shaded by palm trees and lush gardens, backed by natural ponds and centred around a cooling swimming pool, An Villa is a serene tropical oasis perfect for a retreat. Located mid-way between Cua Dai beach and the UNESCO World Heritage listed ancient town of Hoi An, An Villa provides easy access to swimming beaches and unique cultural attractions.
The majority of the staff live at An Villa and delight in welcoming you to your 'home away from home'. They are always available for conversation, smiles and to share their ecologically sustainable approach, community projects and traditional Vietnamese family values.


Accommodation
An Villa is a boutique resort designed by well-known French-Vietnamese architect Helena Tran Quang Man. Each uniquely designed studio or villa is tastefully decorated in vintage Vietnamese style. Distinctive carvings and hand embroidered fabrics sit alongside photographs by local artists and thoughtful touches like organic soaps handmade on the premises. Each living space features air conditioning, private bathroom, a kitchen area with fridge and tea/coffee making facilities, a private garden or outdoor terrace, strong WiFi and books for your reading pleasure.
Food
You will be treated to three meals a day, served to the table in traditional Vietnamese family style. Enjoying meals together is one of the most significant activities in Vietnamese traditional culture. Meal time is when friends and family gather to share and appreciate another day of gifts from the soil, from the mountains, the river and the sea. With its fine balance of fresh herbs and sparse use of dairy and oil, Vietnamese food is considered one of the healthiest cuisines worldwide. The dishes on the menu are based on Mum's kitchen, traditional recipes that have been passed down through the generations. Each dish is prepared with hand-picked vegetables from the An Villa garden and locally-sourced ingredients.
Local Food TOur
A trip into the centre of the delightful and atmospheric Old Town of Hoi An. Once a major port and trading centre, Hoi An's well-preserved Chinese temples, Japanese merchant houses and ancient tea warehouses are enchanting amidst a multitude of glowing lanterns. Our guide will take us through the enticing old city lanes, sampling the local cuisine as we go. We will be enjoying many of Hoi An's world renowned specialities, such as Cao Lau, white rose dumplings, black sesame pudding and lotus tea. There will be plenty of opportunities to photograph the lantern-lit evening atmosphere and charm before heading back to the villa via taxi.
Sound bowls
The body is like an orchestra. If an instrument is off key, we feel out of tune. Too many discordant frequencies can affect our wellbeing, creating stress, anxiety and disease. Sound bowls vibrate our frequencies back into balance and make the mind, body and soul feel in tune. We will experience an hour long healing sound bath with Tibetan bowls.
YOga SPace
Enjoy meditating and practicing morning and afternoon yoga in the open air on a purpose-built over-water yoga platform. This covered bamboo gazebo is 70 square metres and set in the middle of a lake behind the villa. You'll be shaded from the sun, caressed by the river breeze and may even hear sounds drifting from the local pagoda (Buddhist temple).
Cooking class
Discover more about Vietnamese culture through its cuisine. You'll browse Tra Que traditional market garden learning farming techniques from a local farmer. Then relax with a medicinal foot soak and massage. Enjoy a two-hour cooking class, picking up new cooking techniques. Then enjoying what you have prepared, papaya salad, spring rolls, Vietnamese pancake, curry in clay pot and other dishes. Receive individualised instruction with one chef to each group of 5 people. Recipes are included.


The Full Immersion Vietnam Retreat includes:
Six nights accommodation in unique architect- designed villas surrounded by a magical coconut grove, and rice fields in a boutique villa.
Breakfast, lunch and dinner. The dishes on the menu are based on Mum's kitchen, traditional recipes that have been passed down through the generations. Each dish is prepared with hand-picked vegetables from the An Villa garden and locally-sourced ingredients.
Filtered water
Complimentary tea and coffee available all day
Complimentary 60 minute Vietnamese style acupressure oil massage
Daily cleaning service
Pure cotton bed sheets and towels
All yoga mats, bolsters, blocks and belts provided
Pool towels supplied daily
Guided food tour through the ancient city with boat trip
Group sound bath with Tibetan bowls
Trip into the ancient town for exploring, shopping and a history tour
Beach visit & bike ride
Cooking class & lunch at Tra Que Herb Gardens and a foot soak with medicinal herbs & foot massage
Free internet in rooms and public areas
All yoga, meditation and relaxation classes.Two classes are offered in the morning a beginners and a stronger class.
One month free access to all our online classes prior to retreat starting, includes access to over 1,000 classes.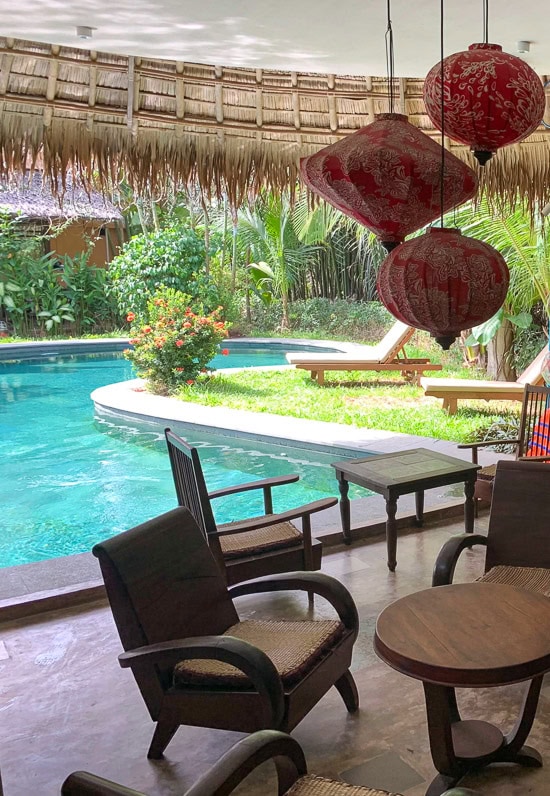 Other indulgences on offer:
Spa treatments, exploring the surrounding area by bicycle, shopping, and relaxing at the beach.
$2,650 NZD all single rooms with private bathrooms
$500 NZD non-refundable deposit will secure your place. 
The retreat starts Monday at 2pm and finishes Sunday at 11am.
The airport you need to fly into is Da Nang, from there it is about a 30 minute journey by taxi to the retreat venue, costs $25 NZ dollars for the trip. Your accommodation can organise your pick up from the airport.
To register please phone: +64 21 1594421 or email: [email protected] 
Not included in the package
International airfares
Travel and cancellation insurance
Airport transfers
Extra spa treatments, special drinks, laundry service
BOOK THIS RETREAT:
As always, there are limited places and this retreat is likely to fill up quickly. If you are interested in coming please let us know soon, to avoid disappointment.
Reach out to us today so we can reserve your spot. Email: [email protected]