High-vibrational Yoga & Meditation Retreats
We are passionate about positive, transformative life experiences
Deeply passionate about the transformative power of yoga retreats, we see them as an opportunity to step out of your daily routine and into a more expansive view of your life. This allows you to become clear on what you choose to manifest change to occur. What you experience during a yoga retreat may just well harvest some amazing changes in your life forever!
We have been facilitating retreats for over 10 years now with over 40 successful yoga retreats in Australia, North America, Asia, and New Zealand. With all this experience behind us, our retreats are carefully planned to include restorative yoga & meditation practices, beautiful accommodation in stunning locations, wonderful nourishing food and a variety of local experiences options. Care and attention to detail are the key to our retreat's success. Everything is carefully pre-planned to ensure that, during the retreat, we're free to focus on making sure each one of you has the best yoga retreat experience possible!
MEET Your Yoga & Meditation Teacher
Marie Andrews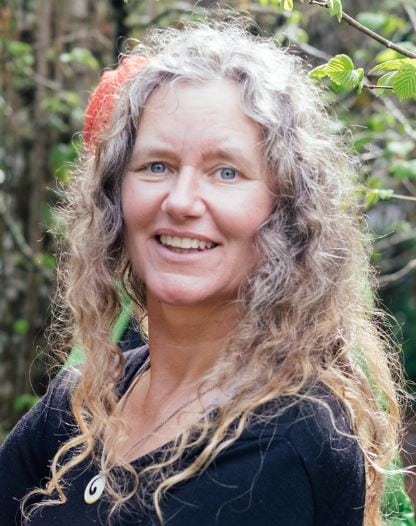 Yoga and meditation teacher Marie Andrews brings a lifetime of experience to her yoga classes, workshops, and retreats.

Yoga is a holistic way of life for Marie; she has been teaching full time for over 20 years and has practiced yoga since 1984. A keen surfer and traveller, Marie's interests in yoga and meditation were sparked by travels to Thailand and India.
Born and raised in New Zealand, Marie lived in Sydney, Australia for 12 years where, in 1998, she completed a two-year teacher training program in the classical style of Hatha Yoga. This in-depth program included training in asana (postures), pranayama (breathing exercises), yoga nidra (relaxation), and meditation. After completing her teacher training, Marie spent two years managing a successful yoga studio on Sydney's Northern Beaches.
Marie has continued to deepen her practice of yoga and meditation, and her understanding of the origins of these practices, through ongoing retreats and trainings in India, Thailand, and Europe. To date, Marie has completed over 1000 hours of yoga training and is a certified 500-Hour teacher. Her enthusiasm and passion for yoga are evident in every class she teaches and her down-to-earth approach puts students at ease and appeals to people from all different backgrounds.
Committed to bringing the benefits of yoga to everyone, Marie has experience teaching all levels of yoga classes and has designed and delivered classes and courses for pregnant women, young children, teenagers, and seniors. She also has extensive experience coordinating and leading workshops, retreats, and yoga teacher trainings.
Marie is passionate about creating and delivering exceptional high-vibrational retreat experiences. In recent years, she has organised and led many fully booked yoga retreats in NZ and overseas. Her students and her practice are her inspirations. Time and again she has seen how a week or weekend immersed in yoga can positively transform your whole life.
MEET Your Yoga & Meditation Teacher
Matt Andrews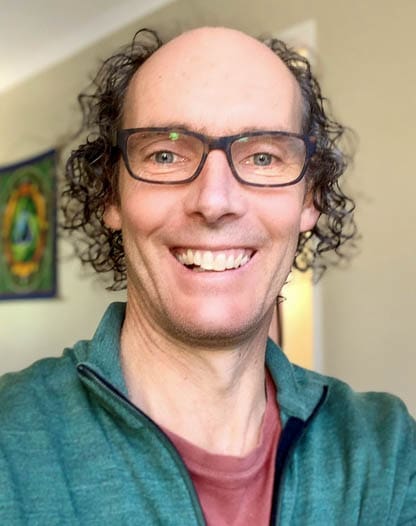 Matt works with people with empathy and compassion while delivering practical advice steeped in wisdom. Offering energetic/emotional support to facilitate empowered transformation towards their ultimate health and happiness.

Matt stumbled into his first yoga class when he was 26 years old while looking for relief from a sore back. It turned out to be a major catalyst for a pivotal life transformation.
Developing a love for yoga, particularly meditation, he found a fresh perspective of spirituality and life meaning. As well as finding relief from backache, over time he found relief from a deeper sense of low self worth. Previously he tried to cope through over achieving, excessive exercise, and binge drinking.
Passionate about facilitating opportunities for deeper experience of connection with Self and community in relaxed and fun ways. He has a gift of being able to lead people into profound meditative experiences without the stress of the traditional methods.
Taking people on retreat is a very exciting experience for Matt, as time and time again he has witnessed massive transformation in participants. It is his great joy to co-create intentional retreat experiences with Marie, holding space to deliver the perfect environment, and mix of activities, for each and every one who chooses to attend.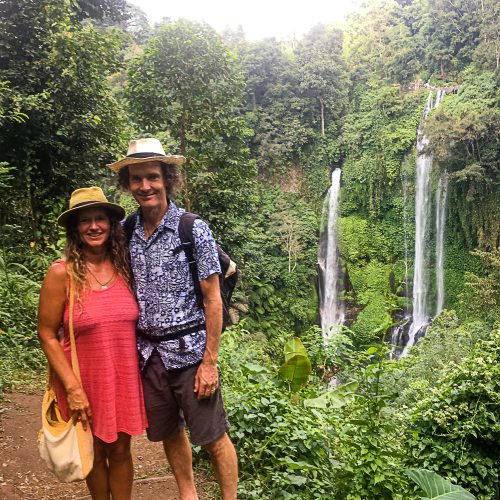 Marie and Matt have facilitated retreats in Asia, North America, New Zealand, and Australia for many years.

In 2005 Marie, her husband Matt and their two children moved to Kapiti. Together with Matt, Marie established a successful yoga centre in Raumati Beach where she managed and taught a full timetable of classes and organised many popular community events.
In 2011, Marie established Kapiti Yoga and due to her commitment and appealing teaching style, Kapiti Yoga which grew to be the most successful studio on the Kapiti Coast, New Zealand.
Together they offer a wealth of experience and are teaming up to co-create a truly unforgettable experience. They are refreshingly down-to-earth in their approach and are passionate about conscious living and facilitating expansive growth. Get ready for a joyful journey of inspiration and transformation.
But don't take our word for it, here's what some of our retreat participants had to say:
"It was an extraordinary experience for me to be on a retreat led so effectively by a married couple. The "I couldn't imagine a better way to start school holidays…. ditching busy family demands to spend some quality time on ME! This very special time (surrounded by some pretty amazing humans!) was soul cleansing. It has given me a clear head and a new appreciation of what is important to me. Feeling relaxed yet completely energised and ready to tackle a much more positive future. It's now time to get rid of some of the old and embrace everything new that comes my way…"
Lucinda
"I am hugely grateful to Matt & Marie for an incredibly supporting, nurturing, expansive & enjoyable retreat and for bringing us to such a beautiful resort. As we start turning our minds to heading back to our day to day lives, I choose to use the memory of this time to sustain me and remind me that we have everything we need inside us and to always relax and trust as we observe the releases in our lives. 
I must also complement Matt & Marie on their organisation; everything was arranged and set up, from the meals to the outings, so that all we had to do was turn up and focus on our own growth and development. Working with Matt & Marie is something extraordinary. I can't wait to go on another retreat."
Mandy
"Marie and Matt take care of everything so that as participants all we need to focus on is showing up and doing our personal work. Beyond the amazing food, thoughtful accommodation, and incredible activities/adventures, Marie and Matt create and hold a beautiful space that facilitates positive transformation. Their experience in yoga, meditation, and facilitating transformation creates a safe environment that allows participants to honour their true selves and really retreat from the world outside.
I have attended these retreats alongside my partner and the retreats have supported us on our journeys as individuals and as a couple. The benefits endure well beyond the retreats themselves and we will continue to attend retreats where we can to continue our learning and growing"
Robyn