10th- 17th May 2025
Santa cruz island - GALAPAGOS

If nature, science, or wildlife inspires you, there is no better place to be than the unparalleled Galapagos Islands. This 7 night, 8 day trip-of-a-lifetime includes naturalist-guided trips to the Charles Darwin station, Bartolome Island, and North Seymour Island. With a small, private group, enjoy kayaking on Tortuga Bay, snorkelling, swimming, a tour of the highlands (pit craters, lava tunnels, and a cloud forest), yoga classes, nature-inspired accommodations on Santa Cruz Island, and all meals.
The star of this retreat is the rich biodiversity of the protected native wildlife, many of whom are unafraid of humans. Swim with sea lions and sharks, spot Galapagos penguins and flamingos, and watch the dance of marine iguanas and blue footed boobies on volcanic rocks. This truly unique UNESCO World Heritage Site offers the perfect melding of yoga and an unblemished example of a wild and natural world.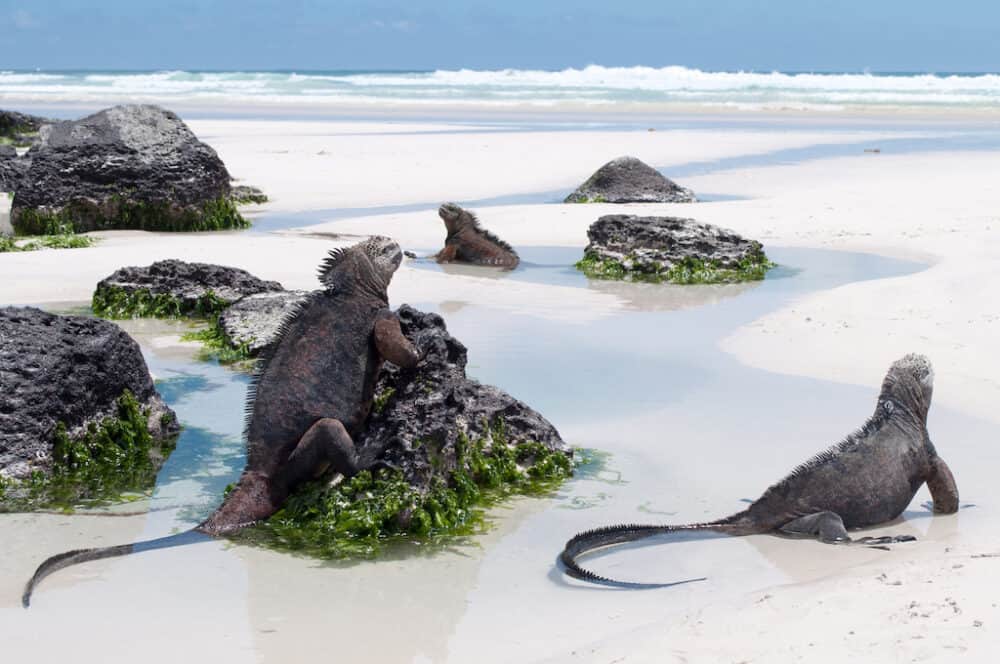 This is more than just a yoga retreat; it is a bucket list trip of a lifetime. Situated in the Pacific Ocean some 1,000 km from the South American continent, these 19 islands and the surrounding marine reserve have been called "a living museum and showcase of evolution." Located at the confluence of three ocean currents, the Galapagos are a melting pot of marine species.  
The Galapagos Islands are home to some of the highest levels of endemism (species found nowhere else on earth) than anywhere on the planet. About 80% of the land birds, 97% of the reptiles and land mammals, and more than 30% of the plants you will see are endemic. More than 20% of the marine species in Galapagos are found nowhere else on earth.
Favorites include the giant Galapagos tortoise, marine iguana, flightless cormorant, and the Galapagos penguin—the only penguin species to be found in the Northern Hemisphere. To learn more about the islands, history, species, and conservation, visit The Galapagos Conservancy (www.galapagos.org).
Semilla Verde is situated on the fertile slopes of an ancient and extinct volcano in the rural uplands of Santa Cruz Island, in the heart of the Galapagos Archipelago.
The grounds of Semilla Verde comprise twelve acres of private forest replanted with endemic and native trees, under which organic, shade grown 'conservation coffee' is growing.
The lodge is nestled within this forest and has balconies and terraces that peer out over the top of it, with majestic, panoramic views to the Galapagos National Park, Galapagos Marine Reserve and outlying islands.
In the evenings another world comes alive on the Semilla Verde Galapagos estate. On a clear night, gaze up into the Milky Way, listen and look out for hunting bats and barn owls, enjoy an educational documentary about Galapagos, or just spend quality time with friends.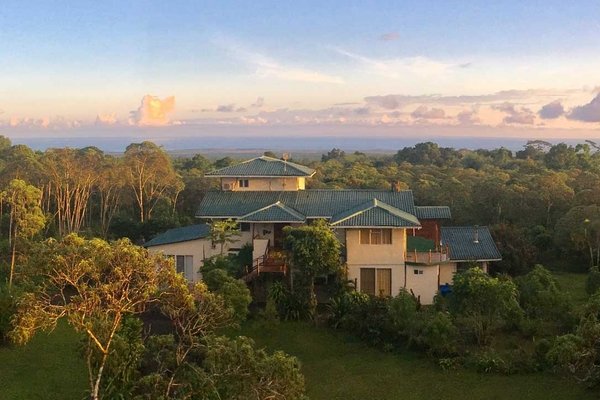 Accommodation
Nestled into the forest, the tree top rooms are ideal for anyone who values time spent in nature. Relax in your hammock on your private balcony or terrace and rejuvenate your connection with the natural world. Inside you will find air-conditioning, mosquito screens, and a seating area. Your private bathroom includes thoughtful touches such as organic soups handmade on the premises.
Yoga Space
Semilla Verde is private, quiet, and fully equipped with a beautiful yoga room and terraces with views to the coast. Our yoga studio looks out onto a pond and it's not uncommon to see a Giant Tortoise strolling by during class. The beautiful bamboo flooring and full windows placed for views of sunrise and sunset to greet you each time you unroll your mat. This space facilitates a practice that invites you to tune in and reconnect with nature.
Food
Indulge in meals that will nourish you with farm-fresh and locally sourced ingredients. Enjoy a variety of unprocessed and chemical-free cuisine that celebrates locally produced food made from scratch. Everything used is local, seasonal, organic. Two dinners will also be included at local restaurants to sample different local cuisines. Food and drink are one of the best ways to learn about new places and cultures. Let your taste buds experience the flavours of South America.
SEA LION PUPS
A Galapagos wildlife highlight is playing with sea lion pups in the water. They enjoy playing with the humans who are snorkeling in the water as they are very curious. This can be a fabulous, once in a lifetime experience. Also many giant tortoise's live right on the property where we will be staying. We will get to practice yoga while watching them drink at the pond that is directly in front of the yoga studio.
excursions
The retreat includes six excursions, three of those are full day boat trips to Barthome, South Plazas, and North Seymour Islands. They all include naturalist guided hikes and snorkelling giving you the best chance to see and appreciate the amazing wildlife of this unique ecosystems. We will also enjoy a guided highland tour of Santa Cruz visiting the lava tunnels, cloud forest, and wild tortoises. An informative visit to the Charles Darwin research station. And kayaking around the beautiful Tortuga Bay.
ABUNDANT WILDLIFE
An aquatic haven of biodiversity, you'll find just about every kind of creature imaginable off the Islands clear waters. The land and sky are equally amazing, too, playing host to colonies of boobies, frigatebirds and volcanic landscapes. We will have the opportunity to snorkel with many different reef fish, penguins, green sea turtles, rays and harmless white-tipped reef sharks. There is a population of blue-footed boobies that perform an amusing courtship dance when nesting conditions are right. This goofy stride, picking-up high their blue feet in a slow motion, wing spreading, whistling and honking is one of the many highlights we will get to experience.


The heart of evolution Galapagos yoga Retreat includes:
Accommodation, nestled in twelve acres of private forest on Santa Cruz Island, Galapagos
Three meals a day, delicious traditional home cooking using local produce for a mixture of traditional Ecuadorian and international fare.
Naturalist-accompanied visit to the Charles Darwin Station
Three full day boat trips to Bartolome, North Seymour & South Plazas with Naturalist guide. 
Snorkeling and swimming on all day excursions, Includes snorkel and mask.
Two dinners in Puerto Ayora
Naturalist accompanied highland tour (pit craters, lava tunnels, and cloud forest, and wild tortoises)
Sunrise yoga/meditation on the beach followed by a beach breakfast
Kayaking & swimming on Tortuga Bay. 
12 acres of private walking paths to explore. (wild Giant Tortoises wander the sacred grounds in slow-motion).
Evening fire pit and unlimited southern hemisphere star gazing
Transfers to and from the airport (on arrival and departure days only)
Filtered water.
Daily cleaning service.
Pure cotton bed sheets and towels.
All yoga mats, blocks and belts provided.
Fresh pool towels supplied daily.
Free internet in public areas.
All yoga, meditation, and relaxation classes are held daily with impressive views of the tortoise pond.
Access to all Semilla Verde  facilities, including, hammocks, comfortable reception area, gardens, bar and restaurant, wi-fi centre, yoga studio, on-site spa, soccer field, and more.
One month free access to all our online classes prior to retreat starting, includes access to over 1,000 classes.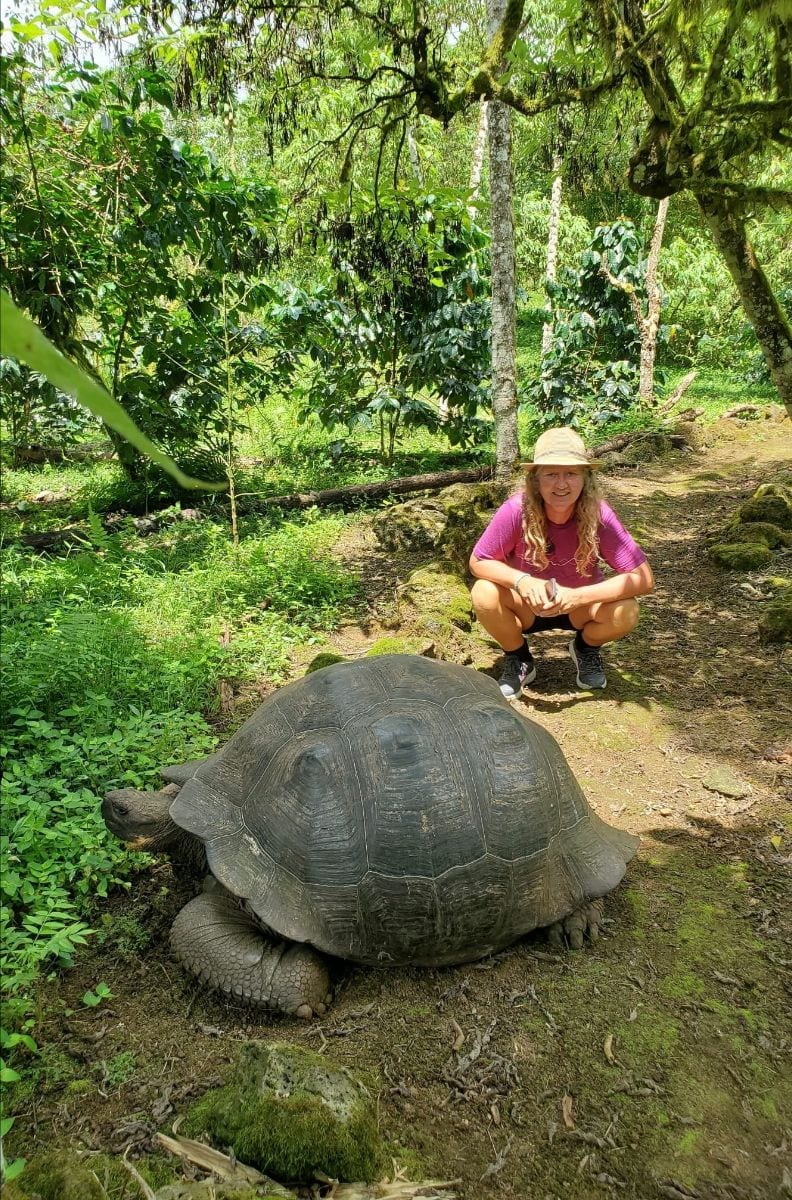 Other indulgences on offer:

Spa treatments, explore the local town of Santa Cruz, beach visit, rent a bike & explore the bike trails. 


TOP FLOOR ROOMS:
The main hotel and FinchWing each have one exclusive top floor room.  These are the most spacious rooms with private terraces and best views.
Sky View Room SOLD OUT
Ocean View Room SOLD OUT
Double Occupancy: $4250 USD per person
PREMIUM DELUXE ROOMS:
These spacious rooms in the new Finch Wing offer a Queen bed or 2 twin beds, private bath and balcony overlooking the property
Sunrise Room SOLD OUT
Sunset Room 
Double Occupancy: $4150 USD per person     
Single Occupancy: $5150 USD
SUPERIOR ROOMS:
These spacious and newly updated rooms in the original hotel building offer a Queen and twin bed, private bathroom and access to living space with kitchen, and large terrace.
Forrest View Room – main level room with private balcony SOLD OUT
Tortoise Pond 1 – downstairs room opening to the gardens SOLD OUT
Garden View  – downstairs room that opens to the gardens SOLD OUT
Double Occupancy: $4050 USD per person 
Single Occupancy $5050 USD
STANDARD ROOMS:
These 2 rooms have all the amenities as all other rooms, they are just a bit smaller and are offered at a lower price. Queen or 2 twin beds.
Tortoise Pond 2 
Plantation View SOLD OUT
Double Occupancy: $3950 USD per person 
Single Occupancy Room: $4950 USD
Please note the final payment will be in NZ dollars and we will let you know the exact cost closer to the time.
$800 NZD non-refundable deposit will secure your place.
Final payment is due 90 days prior to retreat starting. There are only 14 spaces available.
Everyone will need to fly into Quito, Ecuador and then fly to Baltra airport Galapogas. All yogis will be met at the Baltra airport and escorted to a short boat taxi ride across the channel to Santa Cruz Island and a private taxi ride from the desert to the highlands where you will soon be nestled in your home for the week.
To register please phone: +64 21 1594421 or email: [email protected] 
Not included in the package
Flights to Baltra, Ecuador (GPS)
$100 US Galapagos National Park entrance fee (cash only)
Alcohol or items of a personal nature / souvenirs
Gratuities (at your discretion)
Travel Insurance (recommended)​
BOOK THIS RETREAT:
As always, there are limited places and this retreat is likely to fill up quickly. If you are interested in coming please let us know soon, to avoid disappointment.
Reach out to us today so we can reserve your spot. Email: [email protected]