1-7 September 2024
Talalla - Sri Lanka - SOLD OUT
We're delighted to invite you to 'Discover Your Connection' on our yoga retreat in Sri Lanka.
Our programme is designed to free you from your familiar environment so that you can experience life with fresh eyes and reawaken:
Your connection to your inner Self
Your connection to Mother Nature
Your connection to the power of community
A sense of freedom, possibility, and playfulness!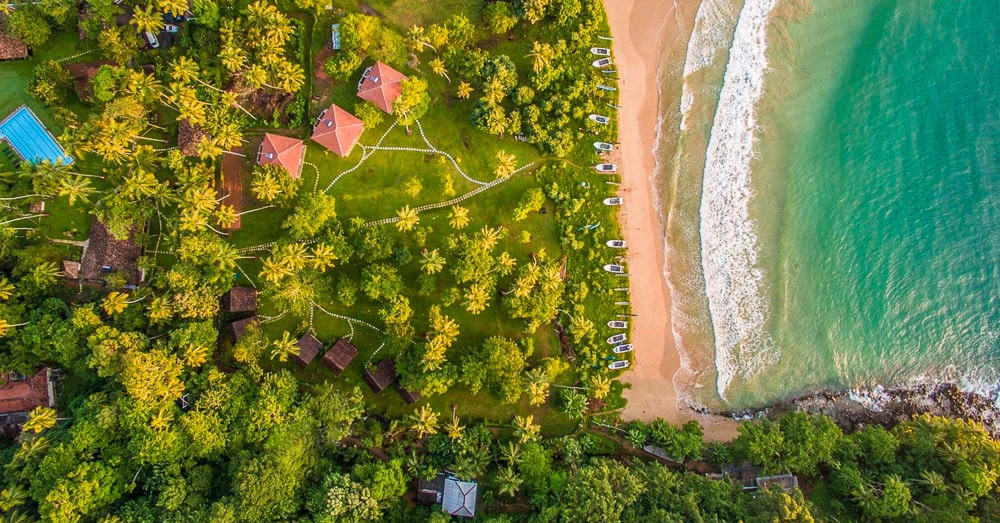 The programme gives you the opportunity to:
Free yourself from the daily grind of cooking, cleaning, laundry, childcare, work… and use that precious energy for YOU!
Immerse yourself in a paradise-level natural environment. Think stunning sunrises, golden sands, clear waters, hornbills and monkeys in the coconut palms, turtles and Southern Sri Lanka is home of the Blue Whales.
Deepen your existing yoga practice or try yoga for the first time, beginners are welcome!
Enjoy self-myofascial release work, a slow, deep yin class, and guided relaxation every afternoon.
Dive into Sri Lanka's rich and ancient culture with an excursion to Mulkirigala Rock Temple, Hummanaya Blowhole, and Hiriketiya Beach.
Make incredible new friends who'll support and uplift you during your stay, and beyond.
Sit back, relax, and be pampered. Breakfast, lunch, and dinner are taken care of. Your room will be made up every day. You'll have free time to treat yourself at the day spa, kick back in a hammock with a good book, or take a surfing lesson.
Pick and choose the offerings that best suit you. Whether you need 'solo' time or a more 'social' experience, it's all here so you can get the most out of your time on this retreat.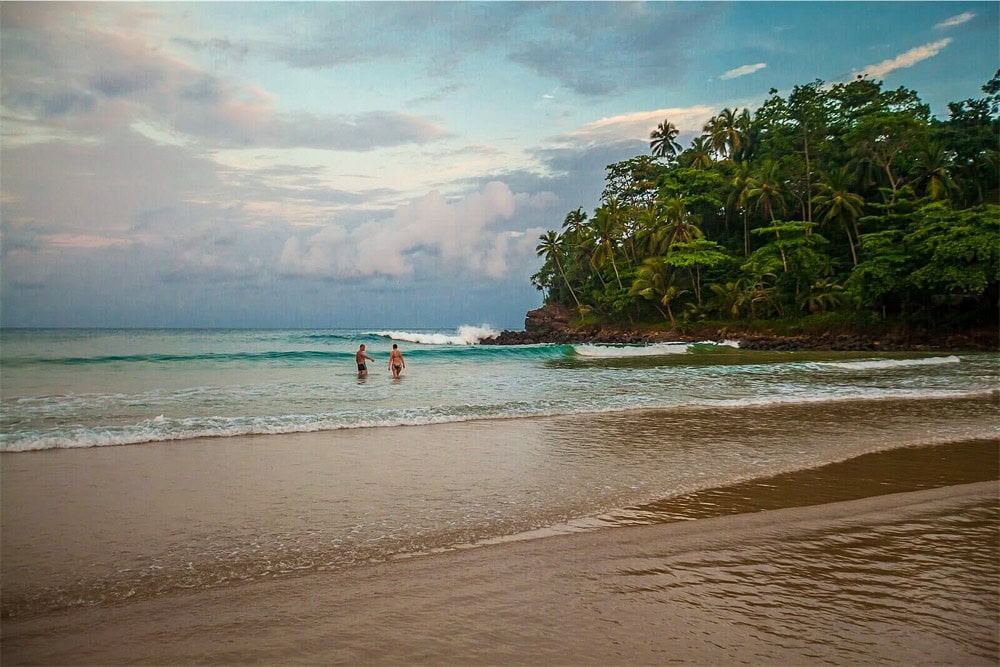 We will stay on the southern tip of Sri Lanka at Talalla Retreat, a beautiful boutique, beachfront resort with villas just meters from the island's most peaceful and protected beach. Sink your toes into the golden sand, swim in a cove of calm, clear turquoise water, and be inspired by the brilliant sunrises. Enjoy gentle sea breezes and gourmet meals in the stunning open-air restaurant pavilion, or luxuriate in Ayrurvedic-inspired treatments at the wellness spa. You can take a leisurely dip in the 20m outdoor lap pool, or if you've always wanted to try surfing this is the perfect spot! The waves are calm and mellow. There really is something here to satisfy everyone!
If you'd like to explore the surrounding area you'll find some well-preserved Dutch forts, dating back to the 1700's and the nearby village of Gandara is home to a sacred Buddhist temple, built by ancient kings. At Talalla Retreat they care deeply about creating a supportive atmosphere for our retreat participants. They're also committed to responsible tourism and work hard to respect the local culture and environment.
We guarantee you'll love your time here, and just maybe, you'll never want to leave!


Accommodation
The open-air villas are located meters from the beach with views through the coconut palms. This is the perfect style of accommodation for anyone who loves open spaces, fresh air, and a beautiful connection to nature. Each villa has a secluded balcony, reading desk, a beautiful four-poster bed, and expansive open air bathroom. Villas are decorated with authentic Sri Lankan furniture and fabrics. Listen to the sound of waves in the distance, hear the monkeys playing in the trees, and remember what being connected to nature is all about.
Yoga Space
The yoga shala is in the perfect setting! We'll practice in a coconut grove overlooking the Indian Ocean Just a minute's walk from your accommodation and handy to both pool and sea, if you fancy a post-practice dip! Watch the sunrise during early morning practice and be soothed by the sound of the waves during afternoon yin. This really is the perfect location to deepen your connection to nature, your yoga practice, and the unlimited potential within you.
Food
Food is an important part of the retreat. Food fuels your yoga practice, your adventures, your inner transformations, and so much more. So, meals need to be vibrant and healthy, but they also need to be gourmet and delicious! At Talalla they get the balance just right. Every meal is made with fresh, high-quality ingredients like vibrant tropical fruit, crisp vegetables, freshly caught seafood, and aromatic herbs and spices. At Talalla they're proud of their low-mileage approach to food. Everything they use is local, seasonal, or organic. If it isn't grown on-site it's sourced from local markets or local fishermen. Sip on a king coconut, enjoy the sea breeze, and savour traditional Sri Lankan delicacies and international favourites.
Spa
Sri Lanka has been a centre of spiritual and physical healing for 2,000 years. At the Talalla wellness spa, modern treatments are inspired by centuries-old Ayurvedic techniques. Try the signature Shirodhara treatment, where a mixture of warm essential oils are gently poured onto the forehead, at the third eye chakra. This is deeply relaxing and allows you to let go of mental tension. Soothe your tired travel muscles with warm herbal oils and a relaxing, balancing full-body Ayurvedic massage. Pamper your hands, feet or face with local preparations made from papaya, honey, coffee, milk, and sandalwood. Talalla's skilfully trained expert practitioners will wrap, scrub or smooth out any last remnants of stress and leave you floating!
Surf
Talalla beach is calm and peaceful. There is no mass-scale tourism here. Instead, most of the time, you will only find locals out fishing or strolling. The beach is a crescent shaped bay ideal for sun bathing. Talalla surf break is not very famous, due to its location away from more mainstream surf spots, but it's ideal if you're a beginner or an intermediate surfer. The beach has a sandy bottom and an easy, powerless wave. Towards both ends of the bay, advanced surfers will find their fantasies come true with a bit of reef, flat rocks, and waves breaking with some power and shape. The local surfing crowd is less compared to other places in Sri Lanka so you can enjoy the trio of surf, sun, and sand in peace.
Excursion
Together we'll explore the captivating southern coastline. We'll visit Mulkirigala Rock Temple, an ancient Buddhist heritage site over 2,000 years old. The temple is impressive, 600ft/183m high, surrounded by lush green forest and housing seven caves on multiple levels. Inside there are both reclining and sitting Buddha statues as well as ancient cave paintings and murals, some of the best and most awe-inspiring in Sri Lanka. Mulkirigala is one of Sri Lanka's oldest holy sites and is sought out by several thousands of pilgrims annually. We'll also see Hummanaya Blowhole, which is considered to be the second largest blowhole in the world, and stop by the stunning Hiriketiya Beach for a delicious lunch.


Sri Lanka Discover Your Connection Yoga Retreat includesincludes:
Six nights accommodation in a deluxe OPEN AIR villa. (downstairs villas are enclosed)
Breakfast, lunch and dinner are delicious traditional/fusion style Sri Lankan Meals (with Vegan, Vegetarian and Gluten free Options). There is fresh seafood available, but the meals are primarily vegetarian.
Filtered water
Complimentary tea and coffee available all day
Daily cleaning service
Pure cotton bed sheets and towels
All yoga mats, bolsters, blocks and belts provided
Pool towels supplied daily
Excursions to Mulkirigala Rock Temple, Hummanaya Blowhole, and Hiriketiya Beach
Free internet in public areas
All yoga, meditation and relaxation classes either in Beach Front Shala, Jungle Shala or tree tops shala. (All open air)
Direct access to Talalla Beach (the resort is beach front and is used by locals for fishing, boat launching and is dotted with various local eateries and juice bars) brilliant for sunrise and sunset walks and meeting the locals too.
Access to all Talalla facilities including Huge Swimming/Lap Pool, expansive grounds with hammocks and sun lounges, open air restaurant for extra juices or coffee PLUS an amazing Spa that is onsite.
One month free access to all our online classes prior to retreat starting, includes access to over 1,000 classes.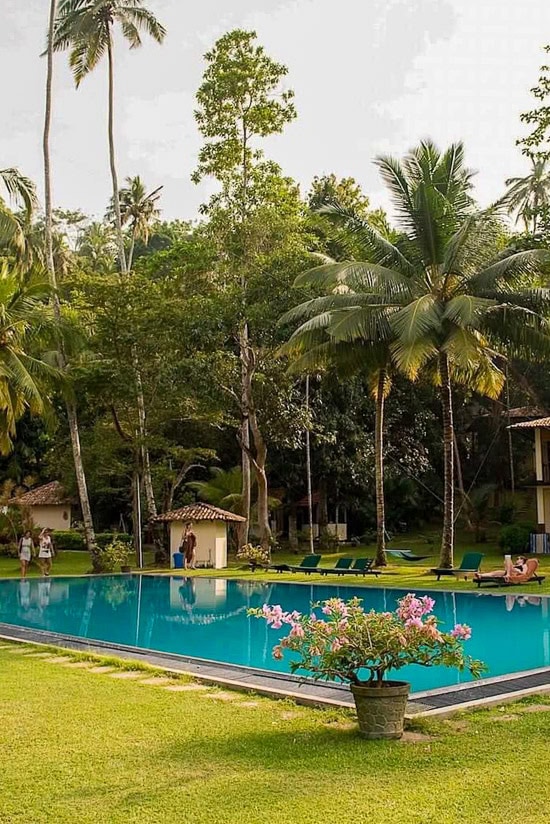 Other indulgences on offer:

Spa treatments, exploring the nearby beaches or towns (very cheap by tuk tuk which they have onsite and can easily arrange for you), surfing, and relaxing at the beach.
$2,600 NZD twin share or $3,200 single
$500 NZD non-refundable deposit will secure your place.
To register please phone: +64 21 1594421 or email: [email protected]
Not included in the package
International airfares / Travel insurance
Airport transfers
Spa treatments
Surf lessons
Alcoholic beverages of your choice
Barista-made 'fancy' coffees e.g. lattes, flat whites


BOOK THIS RETREAT:
As always, there are limited places and this retreat is likely to fill up quickly. If you are interested in coming please let us know soon, to avoid disappointment.
Reach out to us today so we can reserve your spot. Email: [email protected]