Thailand Beach Yoga Retreat
Dates to be confirmed
Haad Tien Bay - Thailand
Find your true inner power in some of the most beautiful and tranquil surroundings on earth! The retreat venue is truly a hidden treasure, located on a secluded beach and only accessible by boat. This magical environment will support your intentions and facilitate healing and transformation.
The daily program will be well-spaced. Enjoy two yoga sessions each day, a morning vinyasa flow and a relaxing yin practice in the afternoon. Your yin practice includes self-guided myofascial release and a guided deep relaxation (yoga nidra). Bliss.
Each day we will offer a unique experience for you to enjoy — a cacao ceremony, a sound healing in the sound dome, kayaking to a nearby beach, paddle boarding and snorkelling. There is generous personal time for you to swim, sunbathe, read, walk in nature, relax with a spa treatment… However you choose to enjoy your time, it's up to you.
Join us for a week-long journey of learning, transformation, inspiration, and joy. This retreat is designed for everyone who wants to enhance the quality of their life, from the merely curious to the serious yoga practitioner.
Everything will be taken care of for you!
SIT BACK, RELAX AND PREPARE TO BE PAMPERED
The Sanctuary Thailand is a world-renowned destination for those wishing to seek "something else" for their Asian holiday experience. Playfully nestled in the remote jungle of Haad Tien Bay, The Sanctuary has blossomed into way more than a resort or retreat destination, it's a community and a way of life.
Famous for delicious health food, detox programs, yoga in paradise and world-class teachers, workshops and teacher trainings. This is the kind of place you come for a week and stay for a month—or a lifetime!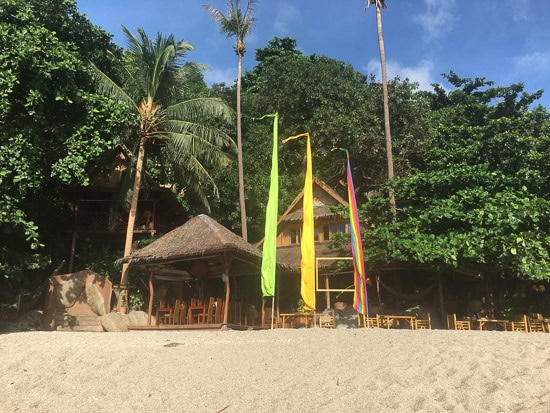 Accommodation
Sanctuary Gardens are on flat land and a short 3-minute walk from the beach. The rooms are spacious and tastefully furnished, each is air-conditioned for your comfort and has a king size bed (or twin beds) with a high-quality mattress and white cotton sheets. Sliding doors open onto a large garden view balcony.
The Prana Yoga Room
The Prana Yoga room is only a minute's walk from your accommodation and is designed in harmony with the jungle surroundings. This is a stunning and secluded space, designed according to the principles of feng shui and topped with a pyramid that aligns with the Great Pyramid of Giza in Egypt. A gentle waterfall runs underneath the yoga room, serenading us as we practice. It really is a vibrant, magical, and powerful space. You will also have the opportunity to practice yoga on a covered deck with breathtaking ocean views.
The Tea Temple
A beautiful multi-purpose space located at the entrance to the Sanctuary Gardens. The Tea Temple is a tea house and cafe, healing space, library, natural health and new-age shop, information desk, lounge room and private evening venue all in one! A variety of teas, shakes, and snacks are available for purchase.
Divine Dining
The Sanctuary Restaurant is located right on the beach with views of beautiful Haad Tien Bay and is renowned for its extensive vegetarian, vegan, raw food, detox, and seafood menus. The Sanctuary has been satisfying guests for 20 years, they truly know how to make healthy eating decadent and delicious! You will enjoy three buffet meals a day. Prepare yourself for a wide range of taste-tempting, freshly prepared dishes, made with love and imagination, from super-healthy to super-naughty and everything in between! No M.S.G. or preservatives are used in cooking.
Sound Healings
The Sound Dome provides the perfect space to have deeply relaxing and regenerative experiences. It has been specially designed for both its acoustic and energetic resonance, and the lighting and furnishing all combine to create an amazing ambiance that has to be experienced to be truly appreciated. You will have the opportunity to experience it for yourself during the sound healings and journeys that will be part of this retreat program.
The Wellness Centre
The Sanctuary has been a meeting place for intuitive natural healers and skilled body workers for over 20 years. The experienced and talented healing team at the Wellness Centre create a comfortable, relaxed and safe space for you to discover your own health and well-being. Each healer specialises in different natural therapies, including various forms of massage, bodywork, energy work, psychotherapy, guidance, and consultations. They will assist you to discover your own innate healing abilities at the physical, mental, emotional and spiritual levels.


Thailand High Vibe Beach Yoga Retreat includes:
Six nights accommodation surrounded by a magical coconut grove, and backed onto the hillside jungle. No roads, traffic or chaotic streets on the island.
Breakfast, lunch and dinner -offering a broad range of healthy, delicious cuisine, together with raw and detox menus, as well as a full list of tropical smoothies, juices, deserts and raw treats.
Restaurant overlooks pristine private beach.
Filtered water.
Complimentary tea and coffee available all day.
Daily cleaning service.
Pure cotton bed sheets and towels.
Pool towels supplied daily.
Sound healing sessions in the stunning purpose built sound dome.
Open mic night and movie night.
Sacred Cacao ceremony.
Dinner at one of our favourite restaurants on the island.
Kayaking, paddle boarding & snorkelling.
Free internet in rooms and public areas.
Daily vinyasa yoga sessions in a stunning secluded space which is topped with a pyramid, astrologically aligned to the Great Pyramid of Giza, Egypt. Together with the soothing sound of a gentle waterfall running underneath, it's really magical, vibrant and powerful.
Daily relaxing Yin yoga sessions with all yoga mats, bolsters, blocks and belts provided and guided self-myofascial release sessions.
Daily meditation and guided deep relaxations, aligned with the theme of the day.
Generous personal time to enjoy swimming, sun basking, walks in nature and spa treatments.
Other indulgences on offer:
Jungle walks, open ocean swimming, stand up paddle boarding, dry sauna and steam room, traditional Thai massage and spa.
$2,300 NZD twin share or $2,500 single room
$500 NZD non-refundable deposit will secure your place.
To register please phone: +64 21 1594421 or email: [email protected] 
Not included in the package
International airfares
Travel and cancellation insurance
Airport transfers
Spa treatments, special drinks, laundry service
BOOK THIS RETREAT:
As always, there are limited places and this retreat is likely to fill up quickly. If you are interested in coming please let us know soon, to avoid disappointment.
Reach out to us today so we can reserve your spot. Email: [email protected]