Stewart Island natural wonders Retreat
2nd – 7th March 2024 sold out
stewart island - New Zealand
Calling all birdwatchers, nature lovers, yogis, walkers, adventurers and photographers. Come with us for an epic 6 day experience on Aotearoa's anchor stone, Rakiora/Stewart Island, where you are likely to encounter all manner of rare and iconic wildlife. The majestic albatross, the endangered yellow eyed penguin, the impressive sea lion, the iconic kiwi, the super cute little blue penguin, the rare mohua (yellow head), kakariki (NZ parakeet), tieke(saddleback), kaka, weka, tititipounamu (rifleman), ngirungiru (tomtit) and many other NZ native birds existing in some of the best examples of original NZ native forest ecosystems that we will explore by boat, kayak, and foot.
Rakiura is an enchanted world of unmodified ecosystems and habitats. From dense coastal rainforests and freshwater wetlands to vast sand dunes and granite mountain ranges, the park provides an exceptional opportunity to see native wildlife and primeval landscapes. Rakiura translates to 'the Land of Glowing Skies', a name that refers to both the beautiful night-sky phenomenon called the Aurora Australis (the Southern Lights) and the breathtaking sunsets that burn on the western horizon. With 440 residents you will hardly see a car or a person, it really is the wild, untouched South.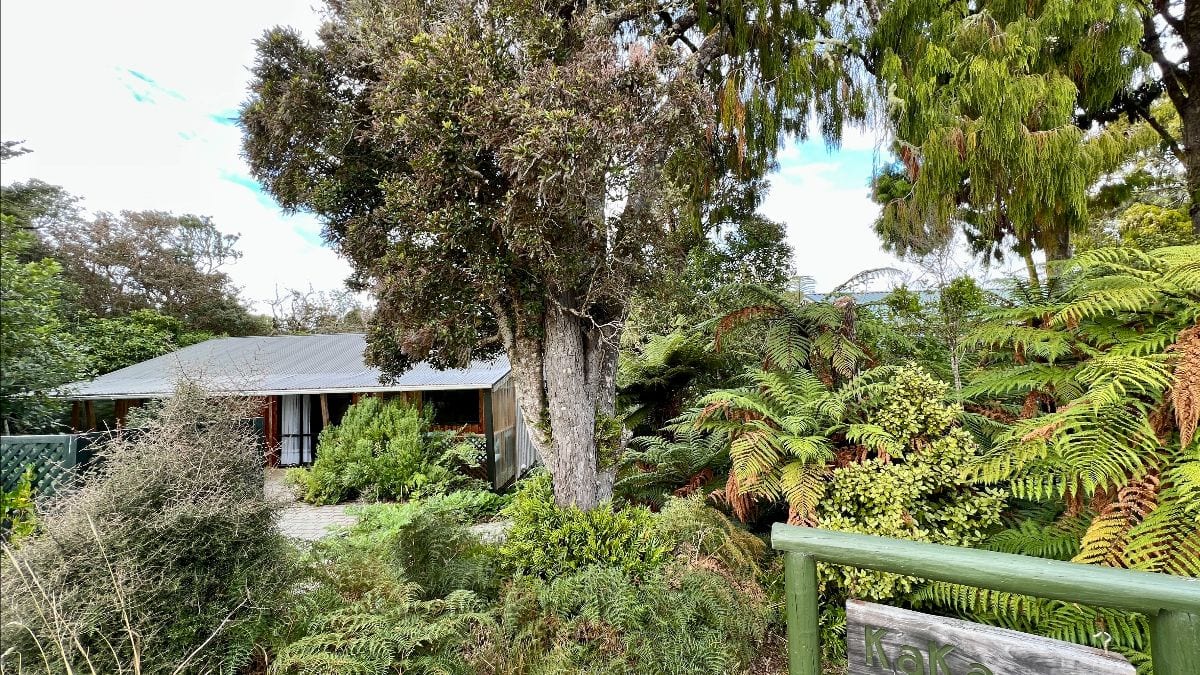 Accommodation
Kaka Retreat is a small, intimate accommodation complex set in a beautiful location amongst lush native bush which enables our guests to unwind in peace and quiet, while Stewart Island's restaurants, shops and main attractions are but a 5-7 minute walk away. With a variety of room configurations we able to cater for singles, couples and groups of friends with spacious rooms and well appointed bathrooms.
National Park
Stewart Island or Rakiura has a land area of nearly 2000 square kilometres, and 85% of it is included within the boundaries of Rakiura National Park. On this retreat you will get the opportunity to enter different ares of the park by foot, boat and sea kayak. Explore pristine beaches, sheltered inlets, and coastal forest, and see seals, penguins, kiwi, weka and many other birds.
Sea KAyaking Tours
We have the best in the business to take us on a guided sea kayak tour of the sheltered waters of Paterson Inlet. Phil has a wealth of knowledge and experience. He is passionate about sharing both the natural history of the environment and human history of this region. The sheltered waters and stunning beaches and bays make the perfect environment for sea-kayaking for first-timers as well as experienced paddlers.
FOOD
We are so excited that Anna from the The Veggie Tree will be flying down to cater for our Stewart Island Natural Wonders Retreat! Many of you will remember her food from our Bay of Island Boat Cruise Retreats! We had rave reviews! Everyone loves her and brought her cookbooks. No meal was ever the same!
Ulva Island
This little gem of an island, situated just a short ferry ride from town is a nature lovers paradise. Established in 1899, it is New Zealand's oldest nature reserve and has been predator free for 25 years. Easy walking trails through vibrant bush, and prolific birdlife is a real treat and a rare opportunity.
boat trips
One of the best ways to view Stewart Island would have to be by boat. On the water you are able to visit the numerous islands that are home to an abundance of marine and bird life. Boats will also be utilised to give us access to secluded beaches and walking trails that would otherwise take hours to hike too.
Stewart island Retreat includes:
Five nights in spacious, private chalets, set in beautiful native grounds.
Delicious wholesome vegetarian meals; all meals are included. Prepared by Anna from the Veggie Tree.
Morning meditations
Daily Vinyasa yoga sessions
Daily Yin yoga sessions with guided self-myofascial release
Guided sea-kayaking trip in the sheltered, pristine waters of Paterson Inlet.
Water taxi to Port William and then a half-day hike along part of the Rakiura Track, one of NZ's Great Walks, back to Lee Bay, and several other guided walks around the island.
Travel by water taxi to visit the predator-free bird sanctuary of Ulva Island.
Cruise by catamaran to view marine and bird life that inhabit the nearby islands.
Kiwi-spotting guided tour through the bush to Ocean Beach.
Group pick up and drop off from Invercargill airport.
Plenty of time to absorb the beautiful surroundings
One month free access to all our online classes prior to retreat starting, includes access to over 1,000 classes.
$2,900 NZD per person and $3,100 NZD for a single room.
$500 NZD non-refundable deposit will secure your place. 
To register please phone: +64 21 1594421 or email: [email protected] 
Not included in the package
Ferry trip to and from Stewart Island
Airfares / Travel insurance
BOOK THIS RETREAT:
As always, there are limited places and this retreat is likely to fill up quickly. If you are interested in coming please let us know soon, to avoid disappointment.
Reach out to us today so we can reserve your spot. Email: [email protected]